Salary negotiation done right, according to super successful women in business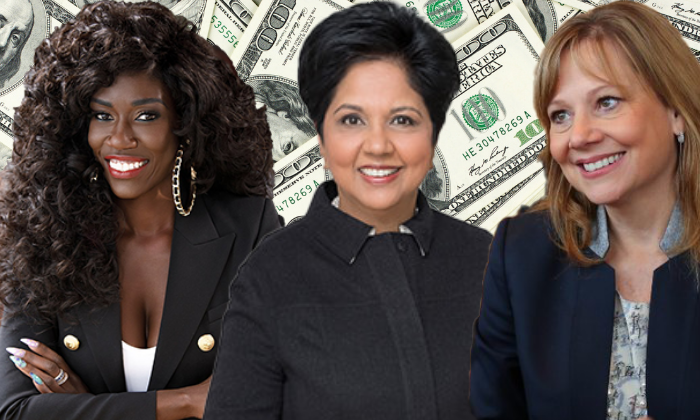 Yes, women are losing out big time economically because of the coronavirus — all the #SadStats we share sadly continue to support this narrative — but that absolutely does NOT mean that it's a bad time for salary negotiation.
It is tricky and sometimes feels icky to ask for a raise, so The Cut turned to 25 famous women for advice on navigating the sometimes dicey waters of salary negotiation. We picked out input from the top business leaders included — read below and go get that $$$!
Netflix Chief Marketing Officer Bozoma Saint John says it's all about the numbers: "Give the number first. Make it high as hell because then you can't be low-balled … Do the work. Don't just call a number out of the sky. Know the range and then exceed the range because then you can negotiate down just a little bit."
Attorney and former First Lady Michelle Obama says it's imperative to be clear about what you need: "I will not work part time. I need flexibility. I need a good salary. I need to be able to afford babysitting. And if you can do all that, and you're willing to be flexible with me because I will get the job done, I can work hard on a flexible schedule."
Facebook COO Sheryl Sandberg warns that, unfortunately, you have to be aware of the differences between how men and women are able to successfully negotiate: "If you are negotiating for a raise and you are a man, you can walk in and say, 'I deserve this.' That will not backfire on you. We know the data says it will backfire on a woman. So I think along with saying, 'I deserve this,' [women should explain] that, you know, 'This is important for [my] performance,' and 'This will make [me] more effective as a team member.'"
Former Reddit CEO Ellen Pao said she was inspired by the compensa­tion philosophy of her predecessor, which might be worth floating to top brass at your company: "He advocated for fair pay by minimizing the amount of negotiation and setting compensation by role. When he left and I stepped in as interim CEO, I made no-negotiation, scale-based pay standard for all employees. We put the onus on the company to pay fairly instead of on candidates to negotiate fair pay. We decided fair was what a strong negotiator would get — market rates at the high end based on experience and role."
Former PepsiCo CEO Indra Nooyi has some moral high ground background info to help bolster your case: "We need to eliminate a wage gap that has women around the world earning the same amount men did roughly a decade ago. We need to empower women by providing them with the support they need to do their jobs and care for their families—because no one should have to choose between their career aspirations and those they love … [B]usinesses thrive when we open the doors of opportunity to extraordinary women, and societies thrive whenever and wherever we can unlock the potential of all our people, women and men alike."