Red flags to the 🚩Royal Swedish Academy of Sciences, 🚩the sports industry, 🚩Big Tech…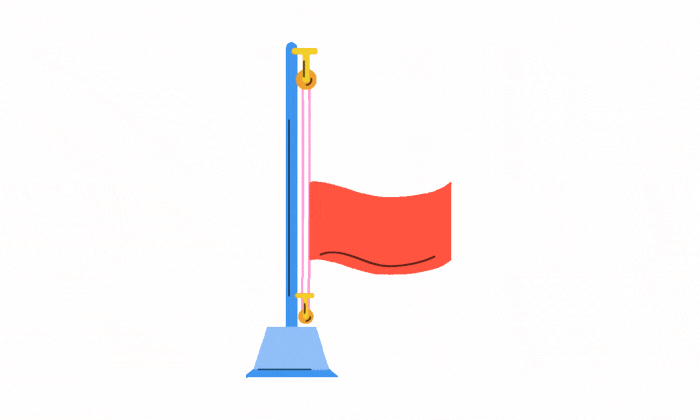 1 woman, 12 men 🚩🚩🚩
We're pretty into the recent Twitterverse trend of including the red flag emoji 🚩along with a somewhat alarming and/or questionable phrase. (See a good example from UN Women at the bottom of this newsletter.) Our contribution, per above, points to the lack of female representation among this year's Nobel Prize winners, which we wrote about last week, before the full disappointing tally was in.
The sole woman to win a Nobel this year was Maria Ressa, a journalist from the Philippines who won the Peace Prize jointly with fellow journalist Dmitry Muratov of Russia. It was a shining moment for Ressa and for journalism around the world; the fact that Ressa is only the 59th woman to be awarded a Nobel over 126 years and more than 900 individual recipients, not so much of a shining moment.
Despite these dim, dark (that's sorta the opposite of shining, right?) and inequitable stats, the secretary-general of the Royal Swedish Academy of Sciences — the group that administers the Nobel Prizes — dismissed the possibility of instituting gender quotas, saying it was "sad" that so few women historically have won, but that it "reflects on the unfair conditions in society, particularly in years past." 🚩🚩🚩Um, you know you can help change that, right, like, that's the point of quotas? And also, not sure "years past" really works as the time frame…
Your vote 🗳: Okay, so our bad, the list of potential Nobel Peace Prize laureates in last week's newsletter did not, as it turns out, include any of the actual winners. That means that the 21 percent of you who voted for "Other" as the winner were correct! And one of those respondents will be receiving some Boss Betty goodies. The majority of you, 30 percent, predicted that climate activist Greta Thunberg would win. Maybe next year?
---
News to note 📝
Netflix employees are protesting the Chappelle special for its transphobia. Do words matter? They do to the 1,000 Netflix employees staging a walkout to protest comedian Dave Chappelle's special, "The Closer," in which he ridicules gender identities. Netflix CEO Ted Sarandos sent a memo claiming that "content on screen doesn't directly translate to real-world harm." *Raised eyebrow* Despite this claim, a trans employee was fired (and then rehired) for attending a meeting in protest. Needless to say, it's not a joke when people's lives (and jobs) are on the line. We're waiting with bated breath to see if Sarandos and Netflix walk back their statement before employees walk out. [Hollywood Reporter, Verge]
Unions are more popular than ever. Can a female leader seize the moment? Liz Shuler is forging ahead as the new president of AFL-CIO, the nation's most powerful and populous union federation. Her move into leadership comes at a critical moment in the movement after the death of former president Richard Trumka. The challenges facing the AFL-CIO include a shifting workforce with the rise of tech, gig and immigrant workers. Although support for unions is at an all-time high (particularly among younger workers), the number of private-sector employees in unions is at a historic low at 6 percent. Shuler has a unique opportunity to leverage her power to support women and other marginalized workers (including underpaid child care workers), and we're rooting for her. ICYMI this summer, read Boss Betty's piece, "It's cool that unions are 'cool' again, but are they doing enough to benefit women?" [Guardian]
The Senate's still haggling over the "Build Back Better" infrastructure priorities. Ah, to live in a country with paid family leave and safety nets for women and families. It might seem like a (distant) pipe dream, but measures like universal pre-K, subsidized child care and an extension of the child credit are, thankfully, still being debated as part of Biden's "soft" infrastructure bill. The problem? It costs too much to implement them all, according to Senate moderates. Do you want subsidized child care or do you want paid family leave? Do you want women to return to work or do you want monthly economic relief for families? Are these really either/ors?! It's a devil of a bargain in one of the wealthiest countries in the world. [NYT, 19th]
Tech workers, "Silenced No More." Get loud, whistleblowers! California Gov. Gavin Newsom signed SB 331 into law, making it safe for California workers to speak out about harassment and discrimination, even if they signed a non-disclosure agreement. Initially conceived to protect valuable trade secrets, NDAs are often weaponized to silence legitimate grievances from current and former employees working at tech giants like Google, Apple and Facebook. The "Silenced No More" bill takes a legal bite out of NDAs, which means workers can come forward with less fear of retaliation. To quote bill co-sponsor and courageous whistleblower Ifeoma Ozoma, formerly of Pinterest, "Turning years of pain into change for 40 million people. It's so epic I don't have the words." BRB, sobbing. [BBC, Marketwatch]
Are the sh*tty men of sports finally facing the music? In other instances of NDAs being used to cover up harassment, the Washington Football Team reportedly offered a financial settlement in exchange for the silence of former female employees. Meanwhile, star gymnasts are asking for the resignation of the U.S. Olympic & Paralympic Committee's Board after their failures in the Larry Nassar scandal. And, Raiders coach Jon Gruden is out for his racist, homophobic and misogynistic emails. Maybe being a racist, sexist jerk doesn't pay after all. Alexa, play "What Goes Around Comes Around." [WaPo, WSJ, NYT]
---
Numbers to know 🔢
 300,000  Number of women who dropped out of the workforce last month due to the start of the school year and attendant child care issues. We haven't seen numbers like this since September 2020, when the U.S. employment market was in total crisis.
 $0  Amount public school and college students will have to pay for period products after California passed a law requiring schools to stock them for free. Buh bye, pink tax, don't let the screen door hit you on the way out!
---
And, in closing, a tweet to think on (yes, yet another one from UN Women — we're fans!)
P.S. Pursuant to this tweet, check out our oldie-but-goodie piece on gendered language: 'Man power,' 'man hours' and other phrases to ix-nay from your iased-bay vocabulary.