Boss Betty Brief: What WeWork's chief counsel earns, why JCPenney's Jill Soltau had quite a mixed bag of a week & more
A roundup of the biggest female-focused news across major industries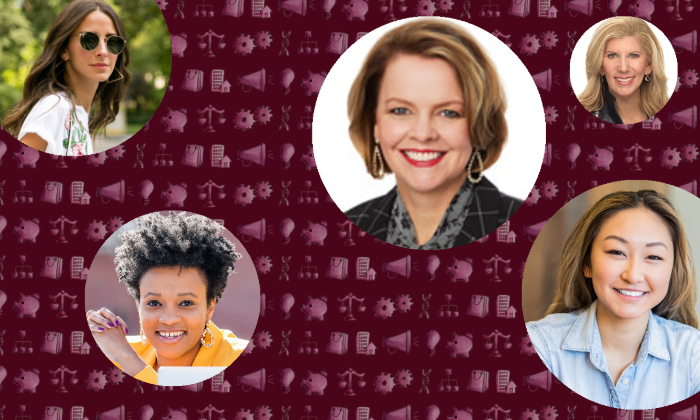 GENERAL ASSEMBLY: Happy Friday and Happy Newsletter Day! What?! You didn't get one? Sign up posthaste! You can also view today's newsletter here. Note that we send different emails depending on which industry you're in, so best to sign up to get the best fit.
Here's the BB breakdown of the biggest female-focused news by industry. Have news to share? Email us at tips@bossbetty.com.
ADVERTISING & MEDIA: Barri Rafferty, CEO of public relations giant Ketchum — she became its first female chief last year — talks breaking glass ceilings and how women in upper management can have the biggest impact [Entrepreneur]. Jessica Rodriguez, president of entertainment and CMO of Univision, discusses being the daughter of two immigrants and the importance of putting your dreams out there: "Whether it's in a whisper, whether it's like with a family member or even if you're just so scared to share with anybody, then just write it down so that you can put it out into the universe and make it happen"  [Politico]. Ads by Volkswagen and Philadelphia (the cream cheese peeps) were the first to be banned for violating the U.K.'s new laws prohibiting sexist stereotypes in advertising. It will be very interesting to watch how this unfolds between media, advertisers and the government [Guardian]. The phone lines are open: Media workers who have experienced sexual harassment have a new resource in New York, the media capital of the world. Women in Film Los Angeles, an organization that advocates for the careers of women working in the industry, is expanding its sexual harassment help line services to New York. It also makes referrals to low-cost therapy and pro-bono employment attorneys [Variety]. 
LAW: How much does WeWork's chief legal officer make? Jen Berrent earned around $900,000 in cash compensation in 2018, and has 347,424 unvested shares, which have an approximate market value of close to $13 million. The We Company — which has zero women on its board of directors, by the way — is expected to IPO as soon as next month [Corporate Counsel]. Jones Day, Jones Day, Jones Day all day. More news on the case mentioned in Thursday's #BossBettyBrief: The couple who sued the firm over its parental leave policy also alleged that Jones Day changes the photos of its lawyers to make them more white and more attractive. What in the hee-haw is going on over there? Remember, the firm is already facing a class-action gender discrimination lawsuit [Above the Law]. The University of Rochester appointed Donna Gooden Payne as general counsel. Previously, Payne was chief university counsel and vice chancellor for legal affairs at East Carolina University in Greenville, North Carolina [Corporate Counsel].
MANUFACTURING & RETAIL: It's been a coin toss kinda week for JCPenney: Jill Soltau shared the (sort of) good news that quarterly losses weren't as bad as expected, sending stocks up Thursday. The bad news: Sales continue to fall, down 9 percent in the quarter, with no end in sight. The company also said that in an effort to reach new and younger customers, it will start selling second-hand women's clothing and bags in partnership with thredUP, an online thrift store [Reuters]. Fresh off a successful Nordstrom deal, influencer Arielle Charnas will create her own e-commerce apparel brand with backing from Silas Chou, the investor who funded Michael Kors and Tommy Hilfiger in the early days, helping turn them into posh global brands. Chou and others committed to a funding round totaling $10 million for the influencer's Something Navy brand [AdWeek].  
SCIENCE & HEALTHCARE: Is the old boy's club that's long defined the health and sciences sector (well, every sector, basically) starting to lose some of its pull there? Women now make up around 40 percent of the country's doctors and surgeons, up from about 26 percent in the late 1990s, according to Quartz. And, the percentage of female physical scientists went from 28 percent in the period between 1997 and 1999 to 45 percent over the last two years. Put THAT in your beaker, boy's club [Quartz]. On that note, increasing gender parity in the health care and life sciences industries and advancing women to the C-suite is a big focus at this year's HLTH convention in Las Vegas, where thousands of top execs from global pharma and healthcare companies will convene to talk shop [Med City News]. 
TECH & ENGINEERING: Sarah Guo, who was promoted in 2018 to become the first female partner at the VC firm Greylock — and its youngest partner, until recently — explains how the venture capital industry can narrow its diversity gap. "Investing firms need to be held accountable for diversity in the court of public opinion, and they'll react to market demand," she said. "The market for VCs is founders, so founders voting with their feet and choosing more diverse partnerships matters…. [T]he diversity that founders build into their executive teams at high-growth startups will also indirectly contribute to the number of women in venture, because they'll become the next generation of female investors" [The Information]. Another appalling reminder (as if we needed it) that the tech industry lacks diversity: A new study shows social media algorithms are more likely to flag tweets written by African Americans as "offensive" [Vox]. On the other hand, inspiring young women like Khalia Braswell are working to bring more girls of color into tech. She's an award-winning technologist who left her job at Apple to expand INTech Camp for Girls, the nonprofit she founded that has introduced 550 middle-school girls of color to tech skills and professional female mentors [Essence]. 
If there's no relevant news of note to share in a given sector, we skip it for the day. Did we miss something? Let us know at tips@bossbetty.com.