Top male executives helped decide the presidency — women CEOs, not so much
Only three top women CEOs gave to a presidential campaign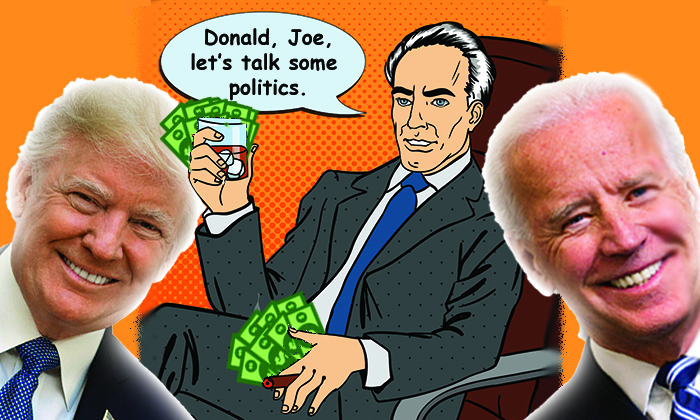 by Heather Grossmann & Kaitlyn Urban. This article was produced in partnership with

When you read about corporate executives hosting lavish political fundraisers — whether a high-end luncheon at a Hamptons mansion, a round of golf at a California desert oasis or a chichi meal at a 20,000-square-foot Manhattan triplex — the hosts are almost invariably men. A recent Wall Street Journal piece outlining the top presidential campaign donors who held CEO positions listed 13 men, zero women. The top three individual donors to the campaigns are all businessmen who each gave upwards of $65 million.
Being overtly political in the business world seems to be largely the purview of male executives, who appear freer to express their preferences in that sphere, both when it comes to expending social capital and doling out campaign contributions. 
While just three top women CEOs in the U.S. — that is, those running S&P 500 companies — gave a total of $139,000 combined to the two presidential candidates this political cycle, 43 men at that level gave hundreds of millions. 
Now, the huge disparity in these figures — at least in terms of the number of CEOs making contributions, while perhaps not the sums themselves — makes a lot more sense in the context of the bleak representation of women among S&P 500 companies. There are only 32 women currently helming the country's biggest companies. Just 6.4 percent. 
 And there's the rub. 

"Here's an area where men as a group are disproportionately represented because of this CEO pattern … Women are lacking political influence in this way," said Kira Sanbonmatsu, a Rutgers professor and senior scholar at the Center for American Women and Politics.
Sanbonmatsu said it's critical to keep this aspect of gender inequality in mind when looking at why it's so important to have more women leaders in business. "More of the personal wealth and more of the business connections" and  "who is in the news" means a greater share of voice in the political sphere, she explained, saying that, "women are often not heard at this high level" because of these disparities. 
The academic also noted that while women's political giving is up substantially in the Trump era — and a record number of women are running for Congress — historically women are less likely to make monetary contributions and when they do, they give less. "Part of it is economics in terms of women's disposable income and earnings," Sanbonmatsu said.
With her relatively modest $130,600 in contributions to support President Trump, Oracle CEO Safra Catz was responsible for about 94 percent of the donations top women CEOs gave to presidential candidates this political cycle (Jan. 2019 – Oct. 29, 2020), according to an analysis of Federal Election Commission filings.
Nasdaq CEO Adena Friedman and Ventas CEO Debra Cafaro are responsible for the rest, giving just $2,800 and $5,600, respectively, to former Vice President Joe Biden's campaign. See the full list of political contributions here. Requests for comment from the executives and companies mentioned were not returned.
Meanwhile, just three S&P 500 male CEOs — including Intercontinental Exchange's Jeffrey Sprecher, Vornado's Steve Roth and Las Vegas Sands' Sheldon Adelson — together gave over $2 million to Trump as of August, according to MarketWatch. Adelson, along with his wife, also gave $75 million to a Trump super PAC that launched at the end of the summer, according to an FEC filing. 
Bess Freedman, who is CEO of one of New York's most prestigious brokerages, Brown Harris Stevens, sees a relatively straightforward answer to why these male executives are contributing much larger sums. "Women are making strides to close the gender gap in America but — to be blunt — the discrepancies are glaring … Women still don't make as much as their male counterparts for doing the same job, thus women would likely contribute less to political causes; we're not operating on the same pay scale!"
Sanbonmatsu added that, for many women, political giving just hasn't become a habit the way it has for men. "Women haven't traditionally been in a lot of the occupations where political donations are recruited … Women are underrepresented in business and in top positions so are less likely to be asked to make political contributions."
Sarah Bryner, research director at the Center for Responsive Politics, noted that one reason women chief executives could be giving less, if at all, is that they're often newer to the position; several of the women leading S&P 500 companies were appointed in the last year or so and perhaps have less job security.   
Bryner said that regardless of gender, it's most common for top executives to donate to their companies' PACs and that all things considered — mega-donors like Adelson and Michael Bloomberg aside — it's a relatively small pool of money. She said that women do give smaller amounts of money and are more inclined to give when there are limits on how much can be contributed.
This presidential election is hyperpolarizing and unfolding in a year marked not just by the pandemic but by social unrest, making the stakes for corporate players who get politically involved higher than usual. "Companies today are under the microscope on their political spending and what it associates them with," the president of the nonpartisan Center for Political Accountability, Bruce Freed, told the Wall Street Journal. "It's much riskier for both companies and CEOs to get involved with political spending."
Brown Harris Stevens' Freedman says that there's a way to make a difference that isn't partisan and doesn't involve your wallet. "Women in leadership roles can still make a significant difference without writing big donation checks," she said, noting that she is giving her employees Election Day off to vote and that her company is working with the Time to Vote movement to encourage voter turnout.
"Many of my peers in the industry remain silent on this issue — both male and female — which I think is unfortunate," Freedman continued. "This isn't politically motivated; it's about doing the right thing."