The Harvey Weinstein Trial: And that's a wrap on jury selection – WEEKS 1 & 2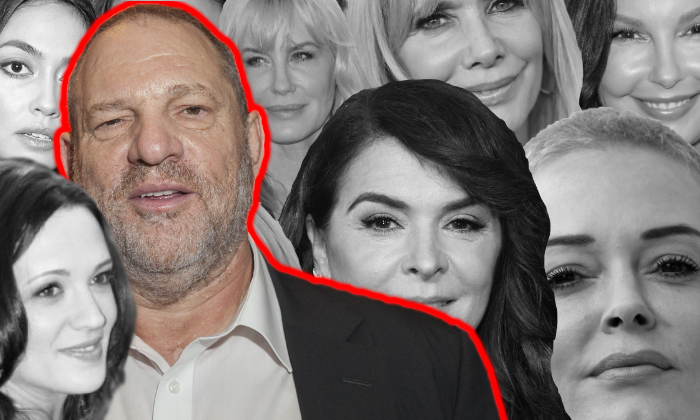 The short of it: Harvey Weinstein's rape trial began in New York City in January 2020, more than two years after accusations of repeated sexual assault and harassment against the producer helped ignite the global #MeToo movement. The trial is expected to last more than two months. Weinstein is charged with raping one woman, who has not been publicly identified, and the sexual assault of another woman, his former production assistant Mimi Haleyi. Those charges carry a maximum sentence of 25 years in prison. If Weinstein is convicted of both crimes, he could also face life in prison for predatory sexual assault. The same day his New York City trial began, Los Angeles County filed four charges of sexual assault against the producer. Weinstein is also engaged in a civil suit by 80-plus accusers alleging sexual misconduct; that suit appears headed toward a $25 million settlement to be paid not by the producer but by insurance companies representing his former studio. The settlement would not require Weinstein to admit any wrongdoing.  
Editor's note: This post will be updated periodically as the trial unfolds, with the news posted in reverse chronological order. Not up to date, no problem — just read from the bottom up. 
Day 10, Fri., Jan. 17: Somewhat miraculously, jury selection is now complete. Here's the gender and racial breakdown of the jury: Six white men (half the jury), one black man, two black women, a Latino woman and two white women. On Thursday, at which point no white females had been selected to serve, prosecutor Illuzzi-Osborn said Weinstein's team was "systematically eliminating white women" from consideration, which is significant as the majority of Weinstein's accusers are white women. The prosecutor raised the issue again on Friday to no avail. Opening remarks begin next week.
Day 9, Thurs., Jan. 16: Despite the hubbub over whether impartial jurors could be found, the question of sequestering potential jurors, and another push by the defense to move the trial out of New York City, Thursday ended with three women and four men confirmed to serve on the jury. Model Gigi Hadid was not among them, per expectations. That leaves five more to be selected, in addition to alternates. The judge told jurors to remember that "this trial is not a referendum on the MeToo movement … It is not a referendum on sexual harassment. It is not a referendum on women's rights … You must decide this case on the evidence."
Day 7, Tues., Jan. 14: Prosecutors, with the help of a lawyer representing the media, argued vigorously against the defense's motion to sequester potential jurors during the screening process, saying there was no legal basis for the request. "Mr. Weinstein cannot seriously claim that publicity threatens his right to a fair trial," read a letter from the attorney repping the media, Katherine Bolger, according to USA Today. "In fact, his counsel Donna Rotunno said in a CNN interview on June 3 that she thought publicity about the case would be helpful to Mr. Weinstein." The matter is not yet settled and jury screening continued Tuesday with a new batch of 110 prospective jurors.
Day 6, Mon., Jan. 13: Fine, we'll join the cadre of publications blaring the news that supermodel-influencer Gigi Hadid was among those called to court Monday as potential jurors. She told the judge that, yes, yes, she could be fair and impartial and was among the group of 35 who will return to court Thursday for further jury screening. That brings the current total of prospective jurors still advancing through the process to 143. The judge also had a strong message Monday for those who had been called to duty: "The court was alerted to a few prospective jurors from last week who have gone on Facebook and or Twitter and discussed their prospective jury duty," Burke said. "Let me tell you, they may be held in contempt of court and face serious consequences up to and including 30 days in jail and a significant fine. So don't do that."
Day 5, Fri., Jan. 10: Week 1 of the Weinstein trial wrapped up with a motion filed by Team Weinstein to privately and individually question each potential juror. The filing said the defense had learned from the jury questionnaires to date that, "(1) some jurors have not been candid in their responses; (2) at least one juror has expressed an ulterior financial motive for serving on Mr. Weinstein's trial and that he would find him guilty; (3) a number of jurors have been victims of or had exposure to sexual assault or domestic violence; and (4) nearly all jurors have heard about this case." Weinstein attorney Arthur Aidala argued to Judge Burke that, "most people do not speak in front of international media" and that questioning had to be done privately "in order for citizens to be as honest and forthright as possible." The judge pretty clearly indicated that he would deny the motion, saying, "That's against the law! I'll read this, but I'm generally familiar with this form of the law … I'm disagreeing with you on virtually every level." He said he'd rule on the motion after reading it later in the day or over the weekend. In other Weinstein trial news, actors Charlize Theron and Salma Hayek were revealed as potential witnesses, and a "feminist flash mob" — in the words of Pulitzer Prize-winning journalist Jodi Kantor — gathered outside the courthouse chanting, "It's not my fault — not where I was, not how I dress."
Day 4, Thurs., Jan. 9: As was expected, the defense's motion that Judge Burke recuse himself from the case was denied. While another batch of 120 jurors were ready for screening Thursday, the selection process was adjourned until the following day because one of the prosecutor's had a "medical situation." Apparently Illuzzi-Orbon had an issue with her eye requiring a doctor's attention.
Day 3, Weds., Jan. 8: Team Weinstein demanded that Judge Burke recuse himself from the trial in a letter to the court claiming the judge's previous remarks regarding Weinstein's cell phone usage were "prejudicial and inflammatory." The letter went on to say that the "comments reflect the Court's animus towards the Defendant and have created a situation in which the Court's 'impartiality might reasonably be questioned.'" Weinstein lawyer Arthur Aidala admitted that he doesn't expect the motion to prevail. The day began with a spat over the courtroom presence of famed victims' rights attorney Gloria Allred who represents one of the two women at the center of this criminal case and is a potential witness for the prosecution. "Ms. Allred should not be allowed to sit in court, watch that testimony and share that testimony with her clients," defense lawyer Damon Cheronis argued. Team Weinstein was ultimately unsuccessful in their bid to get Allred banned from the courtroom. Note that Allred is mother to attorney Lisa Bloom, who is also known for representing women in harassment and assault cases but gained infamy when it emerged that she briefly worked for Weinstein and offered to smear his alleged victims using her experience representing clients claiming sexual misconduct. At the end of the day, fifty more potential jurors were dismissed as jury selection continued.
Day 2, Tues., Jan. 7: "Is this really the way you want to end up in jail for the rest of your life, by texting and violating a court order?" So asked an angry Judge Burke of Weinstein, who was using not one but two cell phones as jury selection got underway on the second day of his trial

. Burke ordered the defendant not to answer and the proceedings moved on. Weinstein's lawyers requested that the trial be delayed because of the new charges against the producer announced in Los Angeles on Monday, arguing that, because the allegations were "the talk of the town at this moment," the New York City jury pool would be compromised. Burke denied the request. Lead prosecutor Illuzzi-Orbon asked that the judge remand Weinstein because of the new charges, a request Burke also denied. Prospective jurors were given a long document to fill out, according to NBC, that included the following question: "The defendant, Harvey Weinstein is a film producer. This case has been widely publicized over the last year, including extensive in-depth coverage of prior proceedings in this matter over the course of the last year. Can you assure all parties that you will determine this case based only on the evidence you will hear in Court?" The questionnaire also asked whether the prospective juror or anyone close to them had "ever been the victim of physical or sexual abuse, either as a child or adult?" Jury selection is expected to take at least two weeks.
Day 1, Mon., Jan. 6: Protestors bearing signs reading "coercion is not consent" and similar phrases supporting sexual assault victims congregated outside Manhattan's State Supreme Court as Weinstein headed in for the first day of his trial. The majority of the day was spent on procedural motions. Things did not begin in the producer's favor as the presiding judge, Justice James Burke, ruled against his legal team's request to call as a witness an NYPD detective who withheld evidence that would have been favorable to Weinstein; the disgraced detective's testimony could have partially discredited the NYPD's investigation into the accusations against him. A move by the defense to sequester the jury once it's chosen was also denied by the judge. But the news wasn't all good for the prosecution: Burke ruled against their request to ban Weinstein and his team from talking about the case publicly, which Manhattan Assistant District Attorney Joan  Illuzzi-Orbon had argued was necessary after the defense's lead attorney made "degrading and humiliating" comments about a witness. Further to the prosecutor's point, Weinstein's crew has reportedly been sending opposition research out to reporters in the form of a 57-page PowerPoint. The judge did, however, issue a stern warning that those involved "leave the witnesses alone … Don't talk about them in any capacity. Just excise the witnesses from your communications." After court proceedings concluded for the day in New York, multiple new charges of rape and sexual assault against Weinstein were announced in Los Angeles County. The producer is accused of raping one woman and sexually assaulting another in separate incidents in hotel rooms in February 2013.