Women in Manufacturing & Retail: Kimberly-Clark bets big on Thinx, Benefit Cosmetics gets a news CEO & more
All the female-powered news in manufacturing and retail this week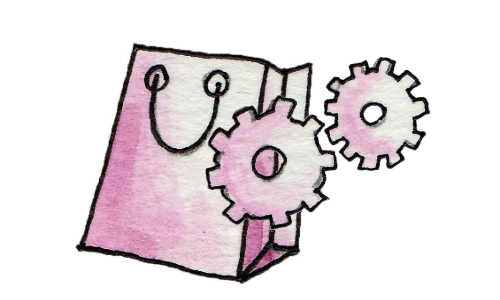 DEAL$: Kimberly-Clark is investing $25 million in Thinx, the reusable period underwear company founded by Miki Agrawal, Radha Agrawal and Antonia Saint Dunbar and run by CEO Maria Molland [WSJ]. Eloquii, the plus-size women's fashion brand founded and run by Mariah Chase — and acquired by Walmart last year — is teaming up with Refinery29 for a crowd-sourced, 27-item weekend-wear collection [AdWeek]. Janet Mandell's high-end fashion rental service — a fave of Priyanka Chopra and Gigi Hadid — is making West Coast moves, opening a permanent showroom in West Hollywood following a successful pop-up [THR]. Ulta Beauty, led by CEO Mary Dillon, is introducing a VR shopping experience called Spark [Chain Store Age]. Children's clothing retailer Primary, founded by Christina Carbonell and Galyn Bernard, just raised $20 million to expand its executive team, build a board of directors (which will include Frances Frei, the Harvard Business School prof and professional culture-fixer) and experiment with pop-up stores. Primary sells gender-neutral apparel without logos or text [Cheddar].
DEPARTURES: Avon VP Laura Barbrook, who was corporate controller and principal accounting officer, resigned from her position with the OG direct-to-consumer beauty company at the end of last week. The company expects her to stay through the first quarter of 2020. A couple of weeks ago, Barbrook sold just over 15,000 of her Avon shares for a total of around $64,000 [SEC]. BMW's head of HR, Milagros Caina-Andree, is stepping down from the company's board of directors, leaving it with no women on the board [Bloomberg]. Macy's announced that the founders of Bluemercury, CEO Marla Beck and COO Barry Beck, are leaving the company. The department store acquired the brand in 2015 for $210 million. Marla Beck will remain CEO until a replacement is found [Retail Dive].
ARRIVALS: Benefit Cosmetics appointed Christie Fleischer as its new CEO [WWD]. Sephora exec Mary Beth Laughton joined Gap Inc. as president and CEO of its Athleta brand [Chain Store Age]. Burberry Group appointed former BET Networks CEO Debra Lee to its board [Fashion United].
BACKPEDALING: SoulCycle, co-founded by Elizabeth Cutler and Julie Rice and run by Melanie Whelan, continues to feel the impact of public outrage after the chairman of its majority owner, Stephen Ross, threw a Trump fundraising gala in August. SoulCycle purchases dropped 12.8 percent in August versus July and customers dropped 4 percent compared to the same period last year, according to data analysis firm Second Measure [Fast Company].
QUESTIONABLE COMMENTS: L'Oreal Chairman and CEO Jean-Paul Agon made some distasteful remarks regarding why young women on social media are good for the beauty business: "The more you make yourself look really great online, the more you have to work on yourself when you go out, because if, when people meet you, they discover that you are completely different from what they thought, then you have a problem … If they want to use filters to look better online, they have to do something in real life also to look better" [MarketWatch].
EARNINGS UPDATE: Best Buy's CEO Corie Barry talked investors through the company's growth plans Wednesday, which includes hitting $50 billion in revenue by FY2025 [CNBC]. Pier 1's interim CEO Cheryl Bachelder announced that the retailer would close 70 stores in the fiscal year as the company posted widening losses during its Q2 earning call on Wednesday [RetailDive]. New Rite Aid CEO Heyward Donigan said that, despite declining revenue, the chain's adjusted earnings exceeded its expectations, thanks in large part to successful cost-cutting initiatives [RetailDive].
A FIRST: The Wing's CEO Audrey Gelman became the first visibly pregnant woman to grace the cover of a business magazine [Inc.].

HOPEFULLY A LAST: Not a well-made board: Madewell filed for an IPO with an all-male, all-white board [Boss Betty]. "Walmart likely discriminated against 178 female store workers by paying less or denying promotions because of their gender, the EEOC said in memos" [WSJ].
NOT FEELING THE
: "ThirdLove says it's by women, for women. But women who've worked there disagree. Employees at the bra company allege policies at odds with the brand's progressive stance and bullying from the male co-CEO" [Vox].
BARRA BRIEF: The United Auto Workers' union entered the second week of its strike against GM, led by CEO Mary Barra. Negotiations resumed Monday morning and both sides said progress had been made, but there are several key issues that remain unresolved [CNN]. As the GM strike continued into day three on Wednesday, AOC called out Mary Barra — not by name, but close enough — tweeting, "This is straight barbarism. GM workers are asking for a raise during a time of record profits. In response, GM execs cut off their health insurance." Worth noting: Cutting off health insurance for striking workers is common as unions typically step in to pick up the tab. "While on strike, some benefits shift to being funded by the union's strike fund, and in this case hourly employees are eligible for union-paid COBRA so their health care benefits can continue," GM said in a statement [Twitter & NBC News]. The GM strike bangs on, but the company — led by CEO Mary Barra — has put a new offer on the table: opening a new plant near where the Lordstown factory ceased operations earlier this year. However, the new plant would make batteries and, according to sources, pay around $17 an hour, far below the $31 hourly wage many former Lordstown assembly workers earned [NYT]. In other GM news, the company restored health insurance to striking workers [NYT].
EXTRA, EXTRA: Mattel launched a line of gender-inclusive dolls [Time].