✊Boss Betty ✊ Newsletter: Wise words from Nasdaq's CEO, Facebook's chief diversity officer, Pinterest's former COO & more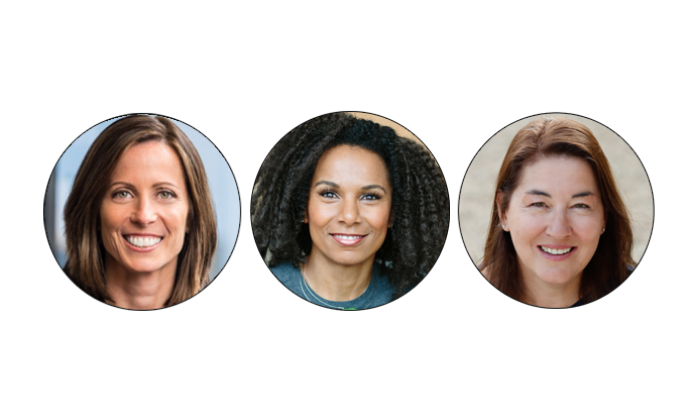 Don't get the newsletter yet? Sign up here for our weekly feminist news roundup.
WTF.
Well, yes, what the f, because things seem pretty dire on all fronts (👋hello from underneath the smoke-shrouded, eerily glowing skies of the Bay Area, and that's just for starters!), but this time we're actually talking about The Information's 2020 WTF Summit. The tech news site hosts an annual conference for women, which took place this week, and despite the unawesomeness of most things currently, it was pretty freaking awesome.
(We think, btw, that the name of the conference is actually an acronym for Women in Tech and Finance that serves the dual purpose of conveying how effed up the gender inequities in those industries are.) (Speaking of women in finance, Citi's Jane Fraser totally just shredded Wall Street's glass ceiling — read our story.) (But also speaking of women in finance, mega hedge fund Bridgewater Associates, which is already being sued for sex discrimination by ex-CEO Eileen Murray, is now facing accusations from a current top exec that she is being paid less than her male counterparts.)
ANYWAY, back to WTF. The speaker line-up was top notch and we wanted to share some of the wise words  and interesting comments we heard from various women luminaries across industries:
We asked Nasdaq CEO Adena Friedman what she thought of California's law requiring public companies to have at least one woman on their boards and she said it was "groundbreaking for this country," noting that Norway made that move about a decade ago with positive effects. When asked about enacting something similar on the federal level, she said that that would be up to the SEC and that they don't seem to have paid much attention to the issue. Friedman said gender quotas could be something for the trading exchanges to consider, "whether it's a true mandate or some level of disclosures."
 SoftBank Vision Fund's Kirthiga Reddy, who was the first woman to join WeWork's board, said that every company, SoftBank included, has its work cut out for them when it comes to diversity and inclusion initiatives. If you haven't already, check out our story, "How inclusive is the 'We' in WeWork?" Reddy said SoftBank set up a D&I council with firmwide goals that it plans to bring to its portfolio companies. The VC exec also said that she is very optimistic about WeWork's future as companies look to give employees more flexibility as a result of the pandemic. She stayed mum on the question of whether WeWork will try for an IPO again any time soon.
Former Pinterest COO Francoise Brougher, who recently filed a gender discrimination lawsuit against her former employer, said that she received an "overwhelming" response to her Medium post about her experience at the image sharing company. When asked if she had initially seen red flags at Pinterest, the tech executive — who also held high-level positions at Google and Square — said that "from the very beginning I started noticing cracks in the company culture" and recommended that, before taking a job, people talk to the former employees of the companies they are considering joining. She noted that "discrimination can happen up and down the hierarchy … Just because you have a seat at the table doesn't mean you have a voice at the table."
Maxine Williams, chief diversity officer at Facebook, said that it was "incredibly difficult to progress" when it comes to increasing the number of Black employees in tech roles at the social network. She said that so far they've only moved the needle from staffing about 1 percent of tech roles with Black employees to 1.7 percent. Williams said that a big part of the problem is the lack of diversity in Silicon Valley, estimating that about 3 percent of tech employees overall are Black. "There is so much inequity, so much inequity looking at a number of factors."
---
Career anatomy: The resume of Wall Street's first woman CEO, Jane Fraser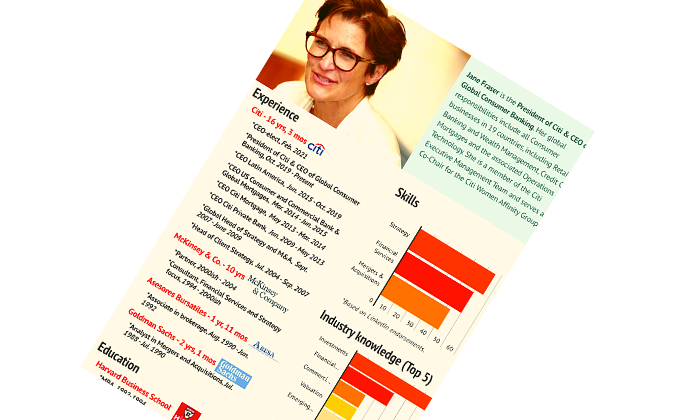 Wall Street's big bank big-wigs will soon have a new executive among them and, unlike the rest of them, she is, well, a she. (Yes, that is lamentably still very remarkable in 2020.) Citigroup's Jane Fraser, who has been with the bank for 16 years, will be promoted to CEO in February following the retirement of Michael Corbat.
So, how did this glass-ceiling smasher get to the very highest echelon of finance? We figured that for all of us aspiring ceiling-breakers it would be helpful to trace the path of her career, so we took a stab at recreating Fraser's resume using her LinkedIn profile, additional research and perhaps a wee bit of creative license (with the design, never the facts, and no, we won't be giving up our day jobs for resume design any time soon😳). READ THE STORY
---
257 years to close the gender gap? So, you're an optimist. 
The pandemic-induced widening of the worldwide gender gap is a major threat to the global economy. Yes, we talk about this a lot, but it is a MASSIVE problem to the tune, potentially, of a $1 trillion hit to the GDP. The World Economic Forum's prediction that it would take 257 years to close the economic gender gap honestly sounds optimistic at this point. But there's a way to avoid this all-pain and no-gain situation if we take action now. READ THE STORY
---
Labor Day 2020 listicle: Six-ish super sad & sucky stats + a wee bit of ✊good news✊

We wouldn't be Boss Betty if we weren't delivering a weekly dose of terrible stats re gender equity. Okay, yes, this week it's a double dose but 🤷🏼‍♀️. We've previously published most of these #SadStats but, hey, it's never the wrong time to reacquaint yourself with the facts, right (REMEMBER THOSE)? Even if they're 🤯-inducing. READ THE STORY